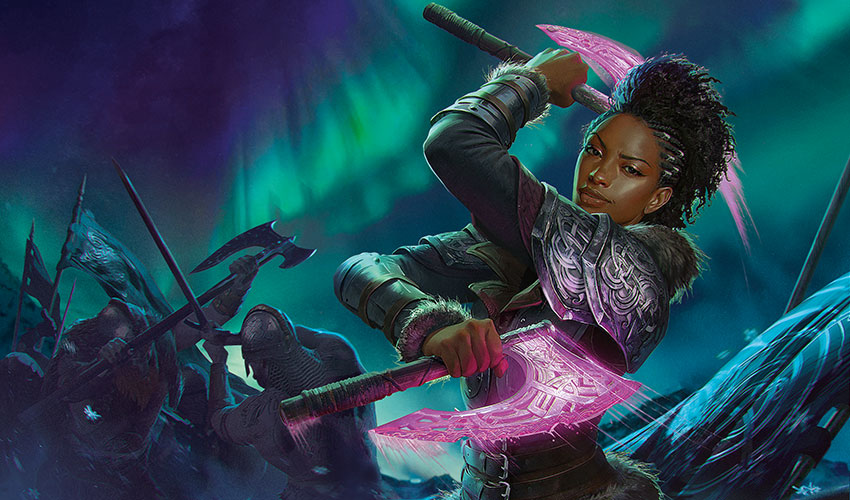 Kaldheim Webcam Prerelease Event (Saturday, Jan 30)
Magic: The Gathering
Tournament
2021-01-30
13:00:00
Magic's most METAL set ever arrives in stores February 5th! Get a sneak peak in a week early by registering for one of our 3 Kaldheim prerelease events! Each event will consist of up to 4 rounds of sealed play over webcam in the store's discord server. Players will recieve a prerelease kit containing 6 Kaldheim boosters plus one additional promo that is foil and date-stamped. 
Once you've registered, stop by anytime after we open on Friday, January 29th to pick up your kit and begin building your prerelease deck. You have from the time you pick up your kit until the event fires to open all six boosters and construct a 40 card deck with the cards inside. If you need basic land, let us know when you pick up your kit and we can provide you some! Otherwise we'll see you with your finished deck at the event start time.
You can win up to four Kaldheim draft boosters! Prizes for this event will be in the form of pack-per-win. Every round you successful win earns you a booster pack next time you stop in. 
In order to stay as safe as possible during these pandemic times, please to pick up your prerelease prizes until you have completed all of the events you have registered for.
32
This is the email you use when logging into your MTG Companion App or Magic Arena. It is used to register you for the event only and will not be used for any other purpose
Help us make sure we're using the right pronouns for you!